Redefining the Multiple: 13 Japanese Printmakers, is the current art exhibition at the Bates College Museum of Art. The exhibit features a wide range of styles, some inspired by traditional Japanese printmaking, and others mapping new ground in the artistic genre.
If you happen to pull open the museum's glass doors on a sunny afternoon and look to your right, you would see a display by the artist Junji Amano. The themes in Amano's work explore the freedom of expression available to the minimalist style. "Voice of Wind" is a series of color panels of surprising textural variety. Evenly spaced, small grey rectangles placed within the panels add a sense of syncopation and rhythm.
On the parallel wall, Naruki Oshima opens the room to a study of the idiosyncrasies of perception. Oshima's work invests special meaning into the ambiguous places between immediate impressions and recognition. The photo prints capture an overlay of reflections in glass windows: images that hover and blend together in translucent arrangements. The pictures feature modern, urban spaces, foliage and a cool green to blue-grey color chroma. Nature and human design collide in these images. It is a delight for the eyes to take a respite from its instinctive desire to sort and parse the reflected images. Oshima's prints allow their audience an insightful glimpse at the full complexity and beauty of multidimensional spaces.
"This leads to a photograph where the image is unstable and you cannot fix your viewpoint. I think it is where a different condition from our daily world emerges," reads a quote from Oshima in the descriptive plaque.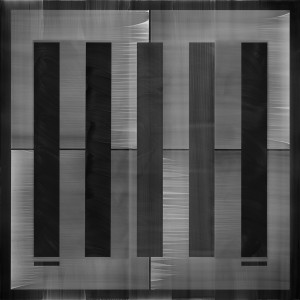 Transparency is another sister theme explored by Hideki Kimura. His artworks feature compositions of transparent layers in blue and grey-scale. Kimura claims that his creative purpose in these pieces is to present the collaborating opposites of concealment and revelation.
The overall effect of looking at the works on display is like gazing into a deep pool of water and ice. Strokes and lines create a powerful sense of unified motion, yet the layers themselves remain delicate. The uniform organization of each artwork into regular shapes is contrasted by the divergences of direction and depth. Each layer echoes a focal presence.
The most visually striking artwork when first entering the museum belongs to the vision of Koichi Kiyono, whose 3D printmaking immediately draws the eye. Kiyono's stated intent for his work is a representation of the physical and the spiritual. For Kiyono, life is an interconnected experience of all living things. Circular vortexes of color on both horizontal and vertical planes convey a spiritual energy from the earth, desert, forest, and water colors. The sculptural egg shapes speak of the origin of all life and the birth of metaphysical inspiration.
Maddie Smit is a senior art history major who has worked at the museum for two years.
With regards to some of the exhibit's more unusual pieces, Smit observes that, "at first glance you wouldn't think it was printmaking…..it is outside of the box for printmaking."
Silence on the Move: Reflection (2010) is perhaps the exhibit's most mysterious and visually fascinating piece. The print is displayed on the floor, and as you look down, the coppery colors scintillate and form strange mirages. If you kneel down and look closely, each panel is composed of perfectly spaced, microscopic, colored towers. These towers are made from a screen printing process in which dots of different colored inks are applied hundreds of times. An intriguing fluctuation of identity and definition, this piece by artist Kouseki Ono appears to be a two dimensional reptile skin, but is in fact a three dimensional matrix on a micro-scale.
Downstairs, the exhibit takes another three dimensional twist with artworks from
Nobuaki Onishi. A clear-tipped colored pencil, a light bulb seemingly full of water, and a glassy leaf are almost magical. They embody an extraordinary duality of both the presence and absence of solid materiality.
Shoji Miyamoto's woodcut prints draw their inspiration from traditional Japanese printmaking techniques. Among his subjects, there is a geometric slice of watermelon and a tin of caviar spilling over into the open air. Once again, there is an element of translucency that exposes the balance between color and shape, focus and fluidity; and each piece challenges the interplay of material substantiality and viewer attention.
"Redefining the Multiple" truly is an exhibition that challenges a typical understanding of printmaking in a conceptually sophisticated way. By defying traditional categorization, these works of Japanese printmaking unveil the transformative power of ideas upon the material and vice versa.